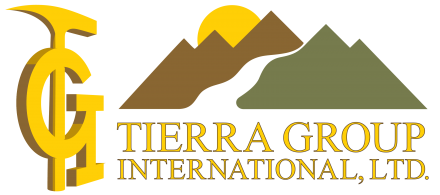 Tierra Group Emblem:
Forged from steel and used to break the hardest rocks on earth, the rock hammer is a symbol of strength. Presented in 24-karat gold it illuminates Tierra Group's commitment to the minerals industry.
Scenery:
The sunrise symbolizes a "new beginning" as each day Tierra Group rises to meet new challenges. The mountain range is made up of a "Group" of peaks with high summits to which we aspire, and will conquer. The stream is a reminder that we must continually strive for ever higher summits so as to respect and prevent our competition from eroding our desire for excellence. Combined, the sun, the mountains and the stream, in earth tones, reflects our commitment to the environment.
Name:
Derived from the Latin word Terra, Tierra is Spanish for Earth. Used here, Group is synonymous with Team and was chosen to remind us that individually, one can only attain greatness in their "own" eyes; however, by uniting, everyone can attain virtue in "His" eyes. International, because Tierra Group shares its expertise around the world. Limited, because Tierra Group limits its team members to those with sincere character, integrity, humility and heart.